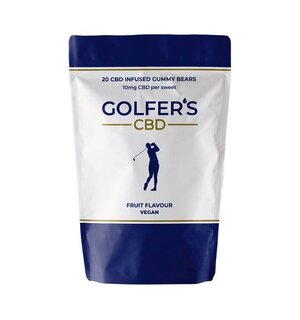 Membership at Chislehurst GC
We are proud to be a members' club that is run by its members for its members. Read more.......
Green Fees 2020
Chislehurst Golf Club is happy to entertain visitors on an all day or part-day basis, however play without a member is restricted to weekdays only. Read more.......
Golfer's CBD Gummies

view other products
These gummies are much more than just a tasty treat; they'll also help reduce nerves & stress for a more enjoyable round of golf every time.
Over-18 only
Certified THC free
Produced in the US in a GMP-compliant facility

We recommend you eat no more than four prior to your round and a couple during, with a maximum of 7 in a day. They can also help you get a better night sleep if you have some before going to bed.
Key features and benefits:
Available in packs of 10 or 20 gummies
Each gummy has a 10mg serving of CBD
Ingredients: Hemp extract, maltitol syrup, citric acid, carnauba wax, natural flavours (lemon, strawberry) & colouring
Gluten Free. Suitable for Vegans.
To feel the benefits of Golfer's CBD Gummies first-hand, click the button to reserve some through us.